WHY DO I NEED DENTAL X-RAYS?

Dental x-rays are used to make images of the inside of your teeth and bones, areas that are not seen when a Dentist looks in your mouth. These images can give us information to help diagnose dental decay, periodontal disease and infections in your jaws. This information will help the Dentist plan the best treatment options for your needs.

ARE X-RAYS USED IN DENTISTRY SAFE?

Over the years technology has greatly reduced the amount of radiation required to produce dental x-rays. The risks from the low level of radiation used to produce dental x-rays is relatively minimal. Nevertheless, your Dentist should try to minimize the radiation dose you receive by using digital technology and by using a lead apron with thyroid collars. The chart below shows a comparison of how Dental digital films has reduced the amount of radiation as well as comparing dental x-rays to other types'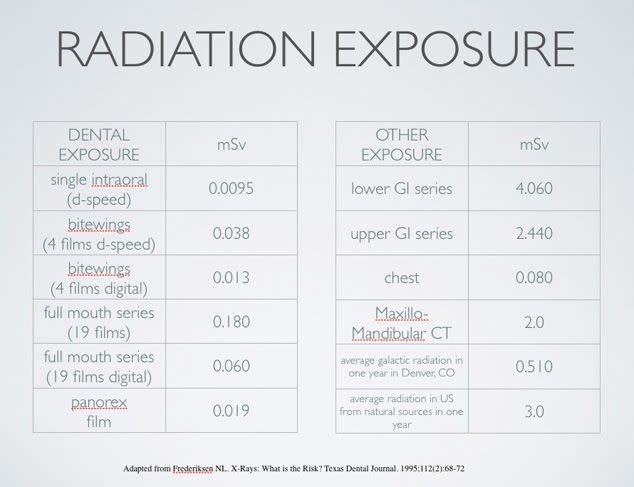 So don't go BANANAS over having dental x-rays done. In Fact eating one banana is equal to 0.1uSv of radiation.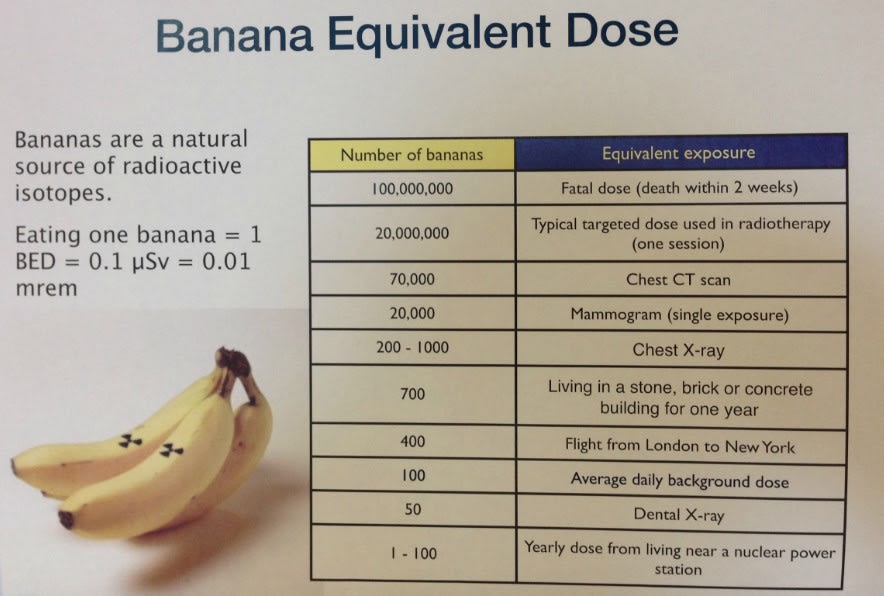 WHAT ARE THE DIFFERENT TYPES OF DENTAL X-RAYS?

We use several types of imaging examinations in dentistry. Most often the images are made with a small sensor that is placed in your mouth. These images are called "periapical" and "bitewing" images. Other images called "panoramic", " cephalometric" and "cone beam" are obtained using sensors outside the mouth.

PERIAPICAL IMAGES:

These images are usually used to evaluate the health of the root and the bone around your teeth.

BITEWING IMAGES:

These images are usually used to look for dental caries or "cavities" between your teeth.

PANORAMIC IMAGES:

These images are of the full upper and lower jaws and are usually used to evaluate wisdom teeth, crowding, joint position, sinus, bone levels and to look for other pathologies.

CEPHALOMETRIC IMAGES:

These images are generally used for Orthodontics and Oral and Maxilofacial surgery to orient the teeth in relationship to the jaw bones.

CONE BEAM IMAGES:

These images provide much more detail as they give a three dimentional image of a particular area of intrest. They are usually used when planning for dental implants, complicated oral surgery as well as complicated endodontic (root canal) treatment.
 
References:

American Academy of Oral and Maxillofacial Radiology Website.

Google, Dental radiation exposure charts